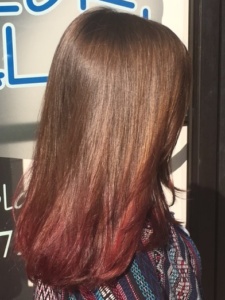 Finally, fall is in the air. The cool morning air is a reminder that pretty soon all the trees will be those wonderful golds and reds. The end of the summer can leave our hair feeling washed out and dry from all the sun, pool and ocean.  Sometimes a 5 minute conditioner done at the sink can really make a difference. Or if you feel like a full pampering do a longer, richer treatment under the heat lamps.   We'll certainly find the one that works best for you  Right now…. we're really excited about the new suddz rx line that we have brought in. They use organic ingredients in their shampoos, conditioners and styling products. The conditioners can be "cocktailed" to give your hair exactly what it needs. We love that they work well and really smell great.
For all of our summer blondes (even if unintended) this is the time for some rich low lights to bring your color back to a beautiful natural shade of blonde, golden blonde, cool or rich brown.  Maybe you feel like you want a fresh start, that may mean for color too. A glaze over your natural or colored hair done with semi-permanent color or even clear can really add shine or a touch of color. Deepen your own tone or try something fun on that washed out ombre!
Talk to us about making your hair look and feel its best!!!